Aragorn-Monitor+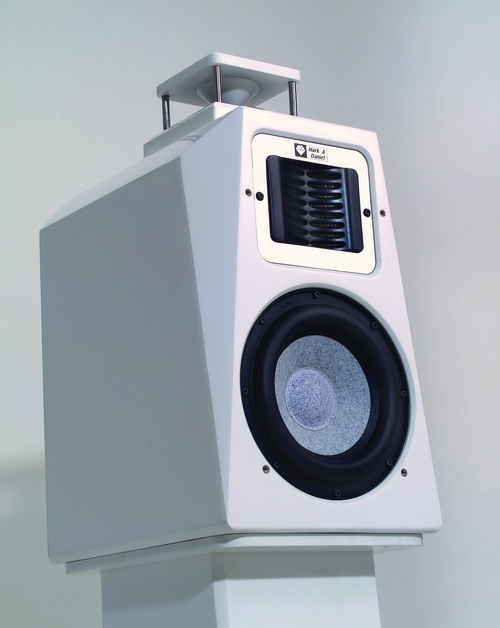 The Aragorn-Monitor+ is the premium Plus(+) series, two-way, 700Hz low-crossover, low FMD index, bookshelf sized monitor speaker; in addition, it has a special ¡°build-in¡° designs to link with two optional devices: the Omni-Harmonizer and Bass-Extender unit. Together, they comprise the ultimate Aragorn sound system.
Each Aragorn-Monitor+ consists of one Dm-1a, the newly developed super-thin diaphragm Dreams AMT driver, carefully pair-matched for wideband reproduction, from 700Hz up to 25KHz, which virtually guarantees true fidelity reproduction, high dynamic output, and very low FMD pollution covering the most essential (800-4KHz) Mid Frequency band, and the complete High Frequency band with one single driver. This is accomplished without acoustics crossovers, without phase variation, without any LC compensation network in perfection.
One very powerful SX8a-1.4 woofer, using Mark & Daniel® patented SX (Super Xmax) technology and uniquely QMA (Quantified Magnets Alignment) design, have been employed to achieve an exceptional ¡À 18mm (1.4") linear excursion to this 8" woofer. A stunning deep bass reproduction on amplifude (under very high SPL output), frequency (for system F3 down to an amazing 36Hz), and full Q-control (along with the complete excursion range) have been optimized to the Aragorn-Monitor+ speaker.
Each speaker enclosure is hand-made and crafted from costly compound marble material (CAM), the cabinet is extremely rigid and heavy (each weighs up to 26 Kg, or 57 lb) to properly handle the enormous internal pressures developed by this exceptional 8¡± SX+QMA bass driver. The unique and sophisticated shape of the enclosure was designed to effectively eliminate undesired internal reflections and acoustic diffractions along the panel borders for both driving units.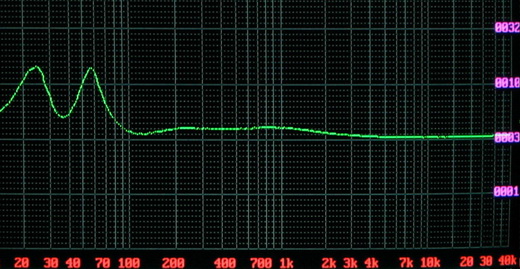 The Aragorn-Monitor+ unit dimensions are H42.0 xW26.6 xD35.0cm (H16.5¡±xW10.5¡±xD13.8¡±). Although the Aragorn is only a mid-sized bookshelf speaker in dimension, it compares favorably to most floor-standing systems in performance with true premium sound quality. The average sensitivity is 85dB/2.83V/1m, and the impedance curve shows nominal impedance to 3.2 Ohms with an outstanding flatness (from 100Hz to 40KHz) that provides a truly stable operation for the amplifier.
Bi-wire connections are required; a minimum of 100-Watt (rated at 8 Ohms) output, high current power amplifier with the low impedance driving capability is recommended for the Aragorn-Monitor+, or preferably, with two 45-60W amplifiers in bi-amp configuration is recommended in order to obtain the best results.
Three pairs of speaker terminals are easily accessed at the back panel of Aragorn-Monitor+; the lower terminal pair is for LF connection to the 8¡± woofer; the middle pair is for MF+HF connection to the Dreams wideband driver; and a spared upper pair is internally wired with the middle pair for the connection to the optional Omni-Harmonizer.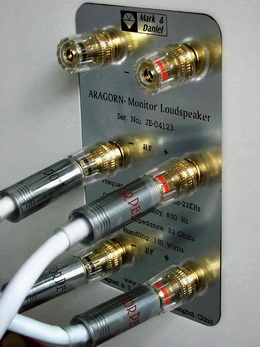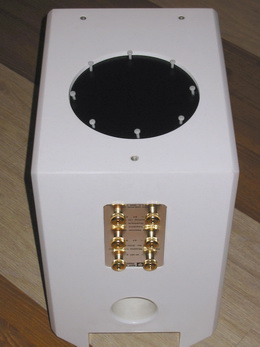 On the enclosure¡¯s top, an indentation is specially designed for proper placement of the optional Omni- Harmonizer device while equipped.
There is a heavy CAM cover at the bottom side of the Aragorn-Monitor+ speaker which is tightly secured during bookshelf operation. When the optional Bass-Extender is attached to the Aragorn-Monitor+ system, it will be necessary to remove this cover to form an airtight tunnel there by securing the Monitor and the Bass-Extender devices together. The original bookshelf speaker is now transformed into a floor-standing system, with deeper bass reproduction achieved by this combination!
Product Description: Aragorn-Monitor+ Speaker
Reference Price: US$7,200/pair, for standard colors
Standard Colors: - Solid White (Code: MD1002)
- Starry Black (Code: MD1423)
* Special colors are under request
Frequency Response: 36Hz-25KHz
Two-way Crossover: 700Hz
Nominal Impedance: 3-6 Ohms
Average Efficiency: 85.0dB/2.83V/1m
Power Handling: ¨R 150 Watts per channel
Enclosure Material: CAM solid surfacing
Enclosure Size: 42.0 xW26.6 xD34.8 cm (H16.5¡± xW10.5¡± xD13.7¡±)
Weight (each): 26 Kg (57 lb)