Maximus-Sapphire
" We are talking unprecedented levels of coherency here from a small speaker that is amazing, literally amazing¡­ It¡¯s the midrange performance that, to me, makes the Sapphire a most remarkable speaker¡­ what really sets the Sapphire apart from the rest of the speakers is the purity, its complete lack of grit and grain.
And absolutely none of them, that I know of, that will give you everything else that Mark & Daniels do - unbelievable bass and smoothly refined and articulate midrange ¨C along with that perfectly airy treble. It ain¡¯t gonna at anywhere near the Sapphire¡¯s price range.¡°
- John Potis, Reviewer -
Postive Feedback Online ¨C Issue 38
http://www.positive-feedback.com/Issue38/mark_daniel.htm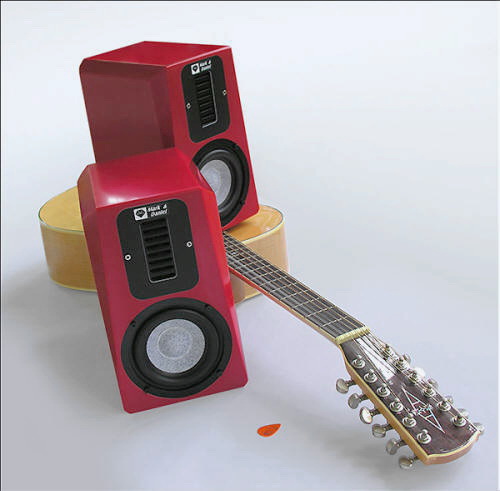 The Maximus-Sapphire is the Mark & Daniel¡¯s monitor-grade miniature speaker made with state-of-art technologies, suitable for Pro Audio applications and/or for audiophiles who are seeking for the finest sound reproducer ever made in miniature size speakers.
Based on the success and design of the Maximus-Ruby; significant detail improvements have been painstakingly crafted to create the Sapphire monitor system, specifically on:
- Fully rein-forced structural enclosure, and back panel with two reflection ports to further cut down on extraneous noise and distortion;
- A larger rubber surround with heavier cone mass for the new 5.5¡± SX woofer is utilized; the woofer incorporates an 40% magnetically strengthened motor which provides even higher output capability, and optimized bass control during high SPL reproduction;
- A new crossover network design, including larger diameter inductor and high quality capacitors for detailed sound alignment;
- Bi-wire speaker terminals are provided allowing bi-wire connection or a bi-amp playback system for the best possible sound reproduction.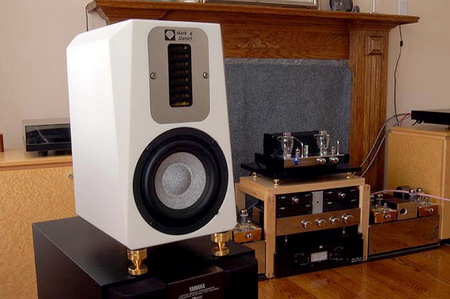 A DM-4 AMT Dreams module is mounted on front panel to cover the 900Hz-25KHz wide audio band with excellent dispersion characteristics. An improved 5.5¡± SX woofer with a superb ¡À10mm linear excursion has been assembled into a rein-forced miniature Compound Marble enclosure, with system F3 response lowered deep down to an amazing 45Hz!
Maximus-Sapphire¡¯s dimensions are H 29.0cm (11.4¡°) xW 17.0cm (6.7¡±) xD 21.3cm (8.4¡°), same as the Maximus- Ruby; the rein-forced enclosure is extremely solid and heavy, each weighting 9.5 Kg (21 lb). The nominal impedance is 3-6 ohms with average efficiency being 83.5dB/2.83V/1m. Maximus-Sapphire speaker does not equip the mask on the panel for the best possible sound reproduction.
For proper operation, a high current amplifier with 100 watts output per channel connecting with the bi-wire cable is the minimum requirement for driving the Maximus-Sapphire.
For better sound performance and cost saving, two mid-power amplifiers can be configured as the bi-amp playback system recommended by

Mark &Daniel®.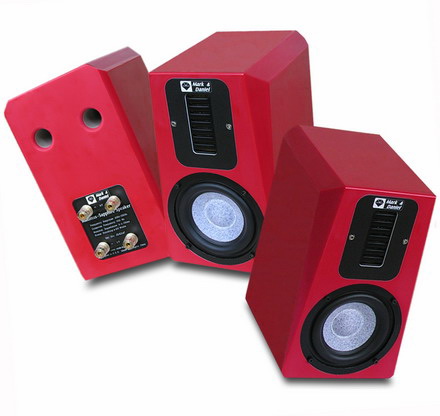 Product Description: Maximus-Sapphire Speaker
Frequency Response: 45Hz-25KHz
Two-way Crossover: 900Hz
Nominal Impedance: 3-6 Ohms
Average Efficiency: 83.5dB/2.83V/1m
Power Handling: ¨R 100 Watts per channel
Enclosure Material: CAM solid surfacing
Overall Size: H29.0 xW17.0 xD21.3 cm (H11.4¡± xW6.7¡± xD8.4¡±)
Weight (each): 9.5 Kg (21 lb)