Maximus-Opal-air4
The Wireless Active Speaker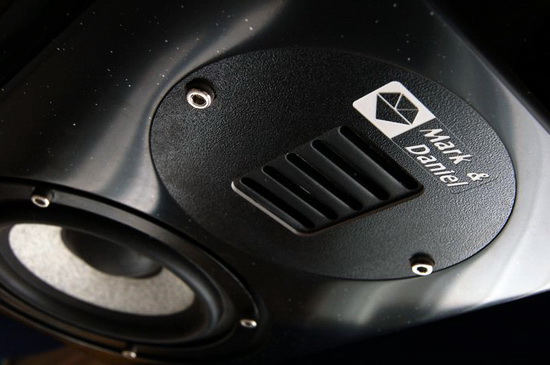 "The Opal-air4 delivered the unmistakable Mark & Daniel clarity, energy and density which few bookshelf monitor match... I'll toast to the success of an innovative speaker that promises music lovers ease of use and sound quality of wireless like never before. It's a perfect partnership between M&D's active loudspeaker and NuForce's Air DAC."

- David Kan, Reviewer, 6moons.com -
http://6moons.com/audioreviews/markdaniel13/1.html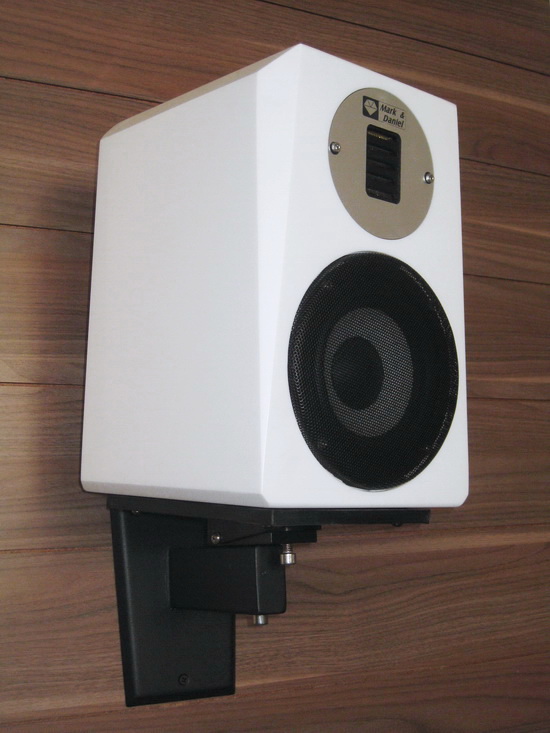 Overview

Featuring the first wireless audiophile-grade active loudspeaker, Mark & Daniel is proud to present his new Maximus-Opal-Air4 sound system, with built-in state-of-the-art wireless streaming protocol and complete with transmitter and receiver kits.

Joining our highly acclaimed Maximus family of loudspeakers, the Maximus-Opal-air4 has combined the hereditary dynamics and musicality, unheard of from such compact mini-monitor enclosure then united with dedicated Tripath amplification module and NuForce Air DAC wireless audio streamer, both undisputed leaders in their fields. The result? Unprecedented ease of operation, versatility and functionality, as well as unparalleled cost-performance value and groundbreaking scope of widened applications!

All those old audio quandaries are now in the distant past. The unique Maximus-Opal-air4 system is therefore, not only a handy tool as powered studio monitors for home hi-fi, AV multichannel, and music professionals but also for sound system operators in restaurants, hotels, banquet halls, bars, clubs, schools, gyms or even houses of worship; it is also perfect for music lovers and sound engineers who opt for easy accessing to wireless streaming files and/or live recording via computer USB ports to achieve audiophile quality playback for the space. Thanks to the unimaginable freedom in configuration, the Maximus-Opal-air4 can be deployed at will to tailor-make one's own portable hi-fi music system.

To say that the Maximus-Opal-air4 is a radical reinvention of the wireless speakers would not be an overclaim. Mediocre wireless speakers in the market do have limited appeal and/or restricted applications due to their compromised design and sound quality despite the benefit of wireless installation; now you can enjoy true hi-fi music throughout your entire listening environment, simply by setting one to four speakers whichever suits your space and mood for the best sound reproduction, unlimited by placement concerns that wired speakers always demand.

Mark & Daniel has now fulfilled the long awaited niche of high-end wireless active speakers that give you ease of fingertip control from Apple i-mobile devices or designated computer, as well as lifelike music playback from soothing background mood to breathtaking concert sound level, wilfully!
The Maximus-Opal enclosure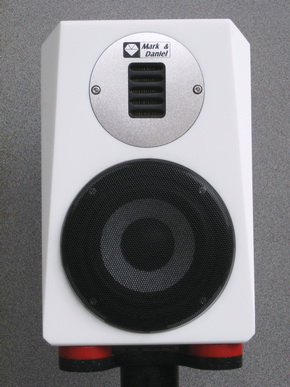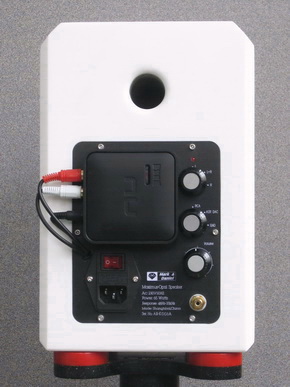 - The Maximus-Opal is a 2-way bookshelf speaker housed in a seamless artificial marble enclosure completed with built-in high quality bi-amp module and Air DAC receiver that mounted on the back panel for wireless streaming.

- Mid-to-high frequency driver is the DM-2a Dreams widebander which covers an exceptionally wide audio range from 950Hz up to 35KHz. This enhanced Air Motion Transformer (AMT) is capable of reproducing a 5-octave bandwidth with superb details and impressive dispersion characteristics.
For DM2a: http://mark-daniel.com/index.asp?Proid=11&table=sdr

- Below 950Hz, the Mid-to-low frequency is covered by the SX5.5h-0.6 woofer which employs M&D's unique Super Xmax technology to deliver an exceptional ±7.5mm linear excursion. Outstanding performance excels on three critical fronts never possible before from such compact enclosure: high amplitude (under high SPL output), very low frequency (for system F3 down to an amazing 48Hz), and sustainable Q-control (along with the complete excursion range).
For Super Xmax: http://mark-daniel.com/index.asp?ID=21&table=Manual
- The Maximus-Opal handcrafted enclosure is made of compound marble (CAM) measures only H29 cm (11.4") xW18 cm (7.1") xD22 cm (8.7") and takes on beveled corners to cut down baffle diffraction. This compact high-density rock-solid enclosure each weighs up to 10 Kg (22 lb) that vibration and damping control becomes second nature.
The Amplification Module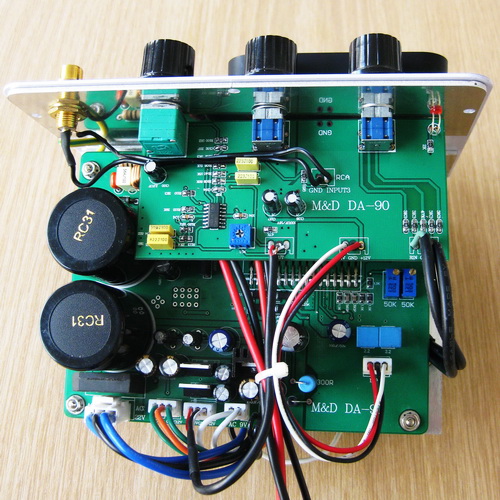 - For audiophiles to fully appreciate the potential of the Maximus-Opal-air4, Mark & Daniel has uncompromisingly adopted a bi-amp configuration boasting all high quality electronic components to the amplification module.
For bi-amp system advantage: http://mark-daniel.com/index.asp?ID=18&table=faq

- To the main PCB of the amplification module, Tripath TA2022 (90Wx2ch) high power chip-set has been employed to get the great dynamic availability and good woofer damping control. Utilizing Tripath's proprietary Digital Power Processing (DPP) technology, this Class-T digital amplifier IC offers both audio fidelity and power efficiency.

- In order to ensure audio-grade performance through clean power supply and minimized electromagnetic interferences, a high-quality R-type transformer has been used for the amplifier module instead of those mediocre switching power supply units.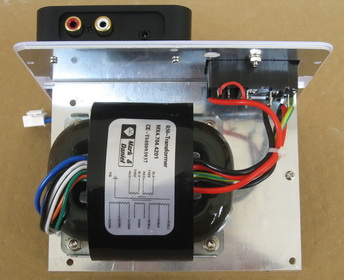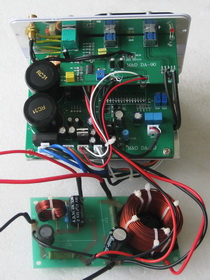 - A dedicated pre-amp PCB with functional control selectors, 950Hz high-pass/low-pass filters, and level equalization stage have been meticulously assembled to the amplification module.

- In between the output of the amplification module and input of the sound drivers, one additional passive PCB is connected inside each enclosure in order to fine tune the Maximus-Opal for optimized sound performance.


The wireless Air DAC

- The Maximus-Opal-air4 is no ordinary active speaker; nor it is ordinary wireless speaker based on radio frequency, infrared, or Bluetooth technology. It is equipped with the most advanced Air DAC wireless audio streaming transceiver developed by NuForce.
For Air DAC details: http://www.nuforce.com/hp/products/airdac-tx/index.php


- Based on advanced SKAA wireless technology, the NuForce Air DAC wireless audio streamer provides not only CD-quality sound performance, it can also receive streaming audio signals from four independent transmitting sources (uTx unit for PCs and/or iTx unit for Apple mobile devices) and drive up to four Maximus-Opal speakers. This provides great flexibility in deploying the speakers strategically to configure the ideal sound system in commercial premises.

The Control Panel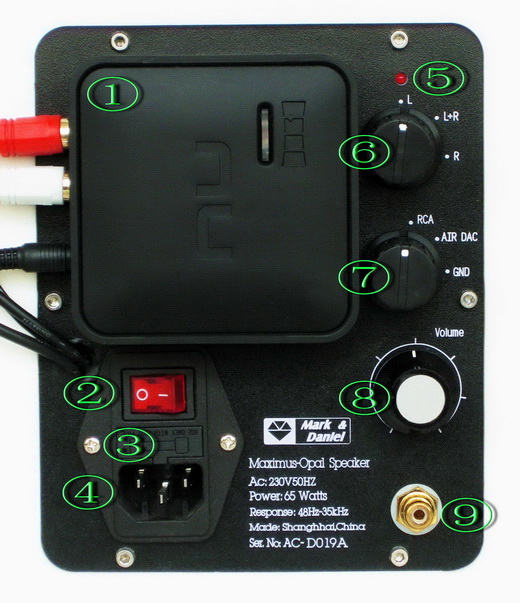 The back panel of the Maximus-Opal-air4 is loaded with user-friendly controls and functionality:

① NuForce Air DAC receiver:
The 6V power supply and RCA R/L outputs have already been fixed and connected to the inside of amplification module; do not attempt to unplug to prevent unexpected damage!

② Power Switch: 0 to off, 1 to on.

③ Fuse Holder: 1A or 2A replaceable fuse, when replacing.

④ AC Power Plug:
- Must check the local voltage to match with the plate description (AC115V or AC230V) before use, or the amplification module may be damaged!
- Please note the AC power cord has not been included for each Maximus-Opal-air4 package since the speaker may be used in different countries and different AC power cord length may be needed.

⑤ LED indication during power on.

⑥ Wireless Receiving Channel Selector:
Selectable for Maximus-Opal-air4 speaker as the left (L), right (R), or mono (L+R) channels; this function is particularly useful for sound effect deployment in commercial spaces.

⑦ Input Selector:
- RCA: Select RCA input to get local hi-fi playback such as connecting to TV, sound monitoring system and other analog sources; act as an active speaker then.
- AIR DAC: Select this for wireless Air DAC streaming.

⑧ Volume Control:
- The Volume Control may not be often accessible once the speaker is mounted on the wall for wireless connection.
When the uTx has been plugged into your PC's USB port and activating the wireless sound system; first set your PC's sound output to high volume (around 80-100% of PC's full-scale output), playing through different music, then properly tune the Volume Control to the loudest sound level that possibly required for your listening room.
- Once the sound system has been properly aligned, you can control the volume from your computer without distortion from now on.

⑨ RCA input jack.


Auxiliary Devices for Maximus-Opal-air4

M&D has specially developed two optional items for Maximus-Opal-air4 sound system which are especially helpful to the commercial space applications:

- The uTx package:
Customers can buy the uTx (for PCs or the other equipments with USB port) and/or iTx (for Apple i-mobile devices) transmitters directly from Nuforce distributors; however, M&D may specially supply his uTx package for customers, as an optional item including the additional 3-meter USB extension cord and the wall attachment hardware as shown in the photo.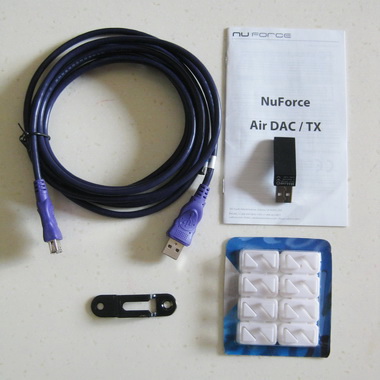 - Maximus-Wallset:
A high quality steel made, stylish wall-set that specially designed for fitting M&D's Maximus-Opal-air4, very solid and rigid in structure.
For Maximus-Wallset: http://mark-daniel.com/index.asp?ProID=92&table=pr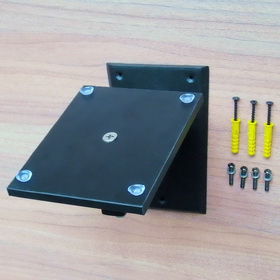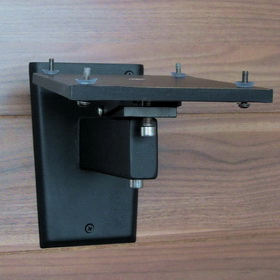 Application Notes for Maximus-Opal-air4
© Before Use

- Before plug-in the AC power cord and to switch on the speaker, must make sure your local AC power voltage matches with the plate description!

© Build your budget hi-fi system with great versatility
- With one pair of Maximus-Opal-air4, you can set up your home hi-fi system with the award winning M&D signature sound at a budget and simplicity you have never thought possible; more than that, you can now enjoy many different music sources and functional applications with the same system simply by changing the speaker modes!
© With the Powered Speaker Mode:
- To build the (2-channel) hi-fi system:
Old-fashioned comfort! Even as a pair of traditional analog active speakers, the Opal-air4 fits in comfortably. Simply connect the Opal-air4s to your existing preamp through the RCA terminals, not only performance is jaw dropping, you also cut down a lot of time and money hunting for the proper power amplifier and speaker cable.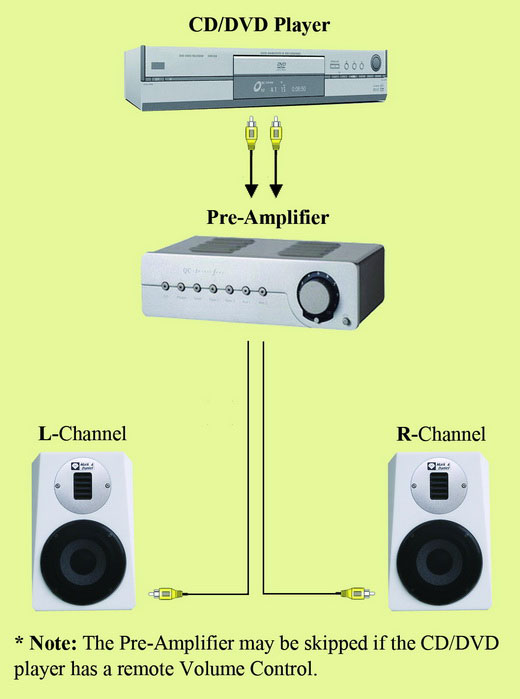 And the pre-amp stage may further be skipped if the chosen CD/DVD player has the function of remote volume control.
- To match with the (multi-channel) AV system:
Theatrical performance! Inexpensive home theater AV receivers normally are underpowered to effectively drive the low impedance M&D speakers. Replace the R/L main speakers with a pair of Opal-air4 and you will get dramatical sound improvement for the complete sound system not only in the main speakers but also the existing center and surround speakers once the AV receiver regains freed up power.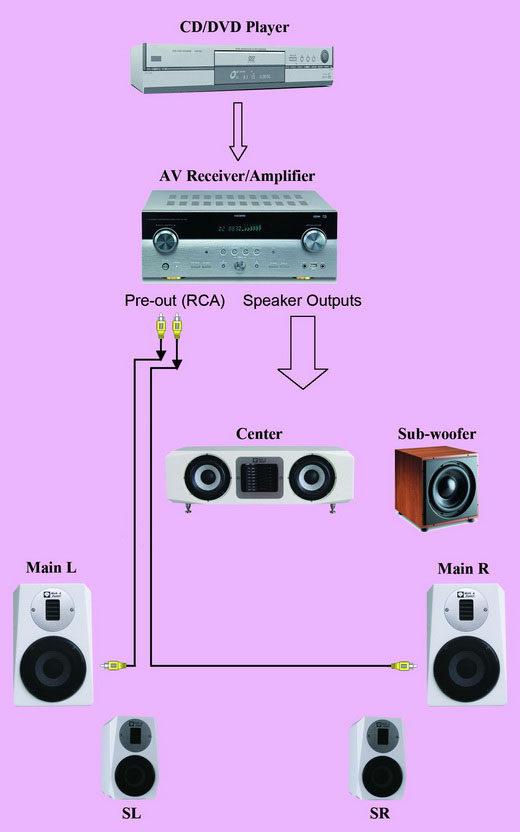 © With the Wireless Mode:
- By the same Opal-air4s setup, simply switch from RCA to Air DAC wireless function, you also get unsurpassed practicality that lets you easily access various music from your PC (by the uTx transmitter) and/or Apple wireless gears (by the iTx transmitter from iPad, iPod to iPhone); all elegantly performed at CD quality from the simple yet beautiful sound system to fulfill a easy listening environment with your own music collections.
- A versatile and/or mobile working station can therefore be achieved when the wireless system co-works with your personal computer as the great sound monitor; the system may match with many useful functions/applications such as for the video games, Karaoke, dancing party, personal music writing/producing, and many more.
- One stone for two birds! Even a pair of Opal-air4s has already been installed as a part of your home AV/hi-fi system, still, you can enjoy great music anytime from your computer (and/or the Apple mobile devices) thru wireless link by the same setup; all you have to do is to switch the speaker input selectors from the RCA to AIR DAC mode.

© Deployment for the Wireless System

- In the free space condition, NuForce Air DAC system has a 30 meters wireless range which can support a very large space (for 2800 square meters) theoretically.

- During practical practice however, this wireless range may be topographically limited by the building and environment conditions; e.g. speakers are installed in different rooms/floors and restricted by blockage of the walls, or the communication may temporarily be blocked (music stopped) while people walk around in the room, and so forth.

- It is therefore a more sensible way to install the Maximus-Opal-air4 system for commercial space as the following deployment in order to get the best clearance and sound effect:

To the transmitting end: using a (3-meter) USB extension cord to raise the uTx module near to the ceiling from your music source computer (which may be located on or under the front desk or the bar table most likely).

To the receiving end: in order to get the best transmission clearance and better sound effect, mount Maximus-Opal-air4 speakers (with Maximus-Wallset or the other proper mount hardware) onto the walls under the ceiling.

© Wireless Sound Quality

- For the wireless playback, two major factors may affect the sound quality of the Maximus-Opal-air4 system: the quality of your music source and the quality of your computer's sound module.

- Copying music with the highest bit rate (with low compression) and choose the high-quality sound (D/A converter) module for your PC are recommended.

- You can install one to four Maximus-Opal-air4 speakers for a commercial space deployment depending on the room size and customer needs.
Spaces such as for the luxury store, hotel, beauty salon, spa, office, and so forth may need good quality music playing at background level most of time; places like auditorium, lounge and bar could require more dynamic playback at concert level. Mark &Daniel's Maximus-Opal-air4 sound system is meticulously engineered to meet these requirements.

- Since you can chose from one to four Maximus-Opal-Air4 speakers to enjoy music adding music to any given environment, which differs from normal serious listening that requiring precise speaker placement, you are free to try different ways to set each speaker's channel playback (⑥ for Left, Right, or monophonic) to get the best sound effect for this particular commercial space.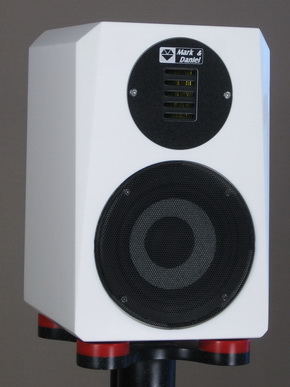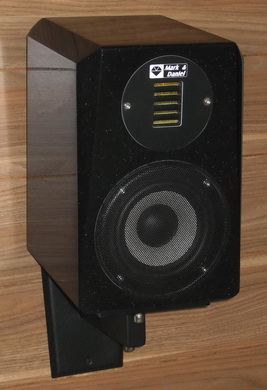 Product Description: Maximus-Opal-air4 Wireless Speaker
Standard Colors: - Solid White (Code: MD1002)
- Starry Black (Code: MD1423)
AC Power: 115V 60Hz, or 230V 50Hz
Power Consumption: 65 Watts
Frequency Response: 48Hz-35KHz
Two-way Crossover: 950Hz
Enclosure Material: CAM Solid Surfacing
Enclosure Size: H29.0 xW18.0 xD22.0 cm (H11.5" xW7.1" xD8.4" )
Weight (each): 10 Kg (22 lb)