The 5.5" Super Xmax Woofers
SX5.5-0.8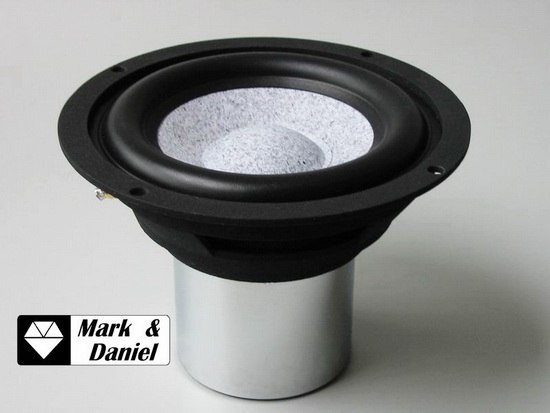 This 5.5¡° woofer with Mark & Daniel patented SX technology has an enormous 33mm long magnetic field created by NdFeB magnets. The high efficiency ribbon copper voice-coil in 13mm length is wired onto a 250¡ãC grade ¡Ó36mm TIL glass fiber former, yields an amazing ¡À10mm (0.8¡°) linear excursion!
A die-cast aluminum frame, Du Pont Metamax durable damper incorporate with large rubber surround, very tough compound paper cone and dust cap, have been employed for the SX series woofer to proper handle its superb dynamics; yields an outstanding bass control and 83 to 85 dB/2.83V/1m at 4 Ohms in efficiency, and with 80-100 Watts power handling. Every detail has been painstakingly taken cared of with the finest materials available. Each SX5.5-0.8 unit is weighed up to 1.6 Kg (3.5 lb).
SX5.5q-1.0
The SX5.5q-1.0 woofer is the innovative version to the original SX5.5-0.8 SX woofer with M&D¡¯s unique QMA (Quantified Magnets Alignment) design; having 25% excursion improvement, an unprecedented ¡À12.5mm (1¡±) of Xmax cone excursion has been achieved on this outstanding driver!