Muse-Inwall-II Speaker
¡¢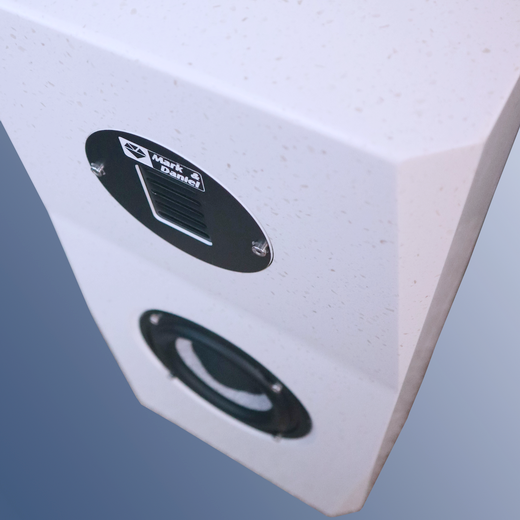 Muse-Inwall-II is Mark & Daniel¡¯s slim-designed, wall-mount (in-wall) speaker applicable for multi-channel audio and/or AV home theater sound systems; due to its high-end CAM (compound artificial marble) enclosure structure with elegant finish, it is also suitable for on-wall applications matching with your interior decoration.
When Muse-Inwall-II is employed into small audition rooms, it may be used as the left/right main channel and center channel speaker with high-fidelity performance, high C/P value, easy installation and economy properties as well. When Muse-Inwall-IIs are matching with a decent subwoofer (such as M&D¡¯s Ultrumax-Sub-Ia), a good multi-channel audio system with full-scale frequency spectrum, loud and clear playback, and a high dynamic sound stage may then be achieved.
When Muse-Inwall-II is used for medium to large audition rooms, it is suitable used as the surround speaker to build the premium AV home theater and/or multi-channel audio systems.
* Ultrumax-Sub-Ia:http://www.mark-daniel.com/index.asp?ProID=115&table=pr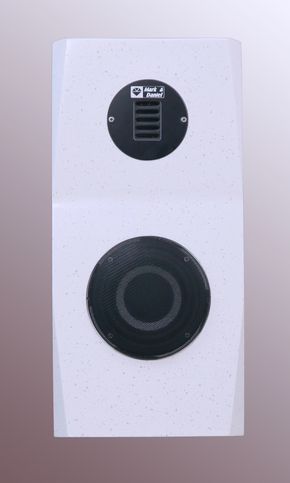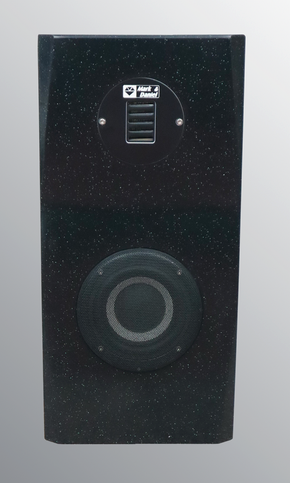 The Muse-Inwall-II slim speaker has a thickness of 13cm (5.1 "). On its back, there are three hook sets to ensure enclosure¡¯s solid and vertical installation; each speaker also includes one perforated installation template which may be directly fixed/glued onto the wall, or punch in pencil to proper install the speaker onto desired position of the wall. Muse-Inwall-II speaker has the following dimensions: H50cm x W24.0cm x D13.0cm (H19.7¡± xW9.5¡± xD5.1¡±). The enclosure with CAM solid surface + beveled edge design has been polished beautifully, also be able to moderately reduce the counteraction effect of the AMT wideband driver; And the upper half of the speaker panel (with the DM-6b AMT medium tweeter drive installed) is specially designed to tilt slightly down to improve better sound directivity when hanging in the high area of the wall. This handmade enclosure of Muse-Inwall-II is quite solid and heavy; each speaker weighs 10.5 kg (23 lbs).
* CAM enclosure: http://www.mark-daniel.com/index.asp?ID=9&table=faq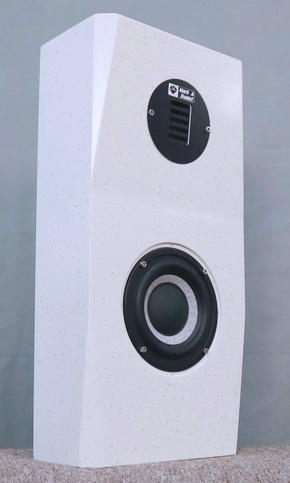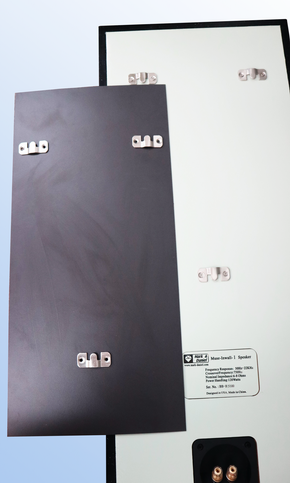 Muse-Inwall-II is a 2-way structured speaker. One M&D¡¯s world leading DM-6b AMT wideband AMT driver has been installed on the speaker panel; this outstanding DM-6b has a large diaphragm from the 0.0125mm ultra-thin polyimide subtract which may cover a remarkable 5 octaves frequency ranges (from 800Hz up to 22KHz), be able to ensure the integrality of human sensitive hearing sector, and with a high-resolution, great sound dynamics playback capability that inherited from the AMT (air motion transformer) mode. All these characteristics are far more superior over the conventional tweeter drivers!
* DM6b AMT driver:http://www.mark-daniel.com/index.asp?Proid=27&table=sdr
* Hearing sensitive range:http://www.mark-daniel.com/index.asp?ID=16&table=Phylosophy
On the other hand, one HX-5.5-0.4-4 (or the equivalent) woofer is installed for the bass reproduction, with good linear excursion and power handling capacity; In order to meet the high dynamic sound pressure (SPL) output requirements of a multi-channel audio playback system, Muse-inwall-II enclosure has a sealed design for woofer, the low frequency response is down to 64Hz and has a good Q damping factor for smoothly downward so be able a better match with the collaborated subwoofer.
Muse-Inwall-II speaker has a higher 6-8 Ohms impedance characteristic over the conventional M&D speakers which can be better match with most of the multi-channel power amplifiers. An average system efficiency is 85dB/2.83V/1m with 60 watts power handling; high-quality power amplifier not less than 60 watts per channel is recommended to proper drive this speaker.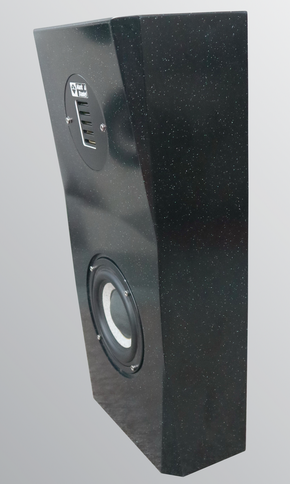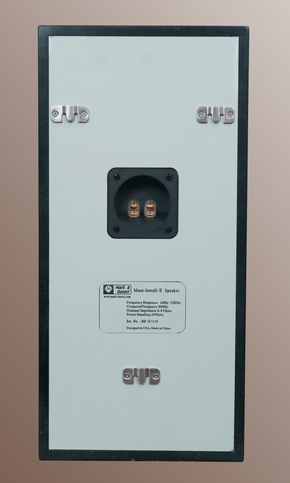 ¡ï Specifications£º
Product Description: Muse-Inwall-II Speaker
Reference Price: US$1,050/unit, for standard colors
Standard Colors: - Solid White (Code: MD1002)
- Starry Black (Code: MD1423)
* Special colors are under request
Frequency Response: 64Hz-22KHz
Two-way Crossover: 800Hz
Nominal Impedance: 6-8 Ohms
Average Efficiency: 85 dB/2.83V/1m
Power Handling: ¡Ý60 Watts
Enclosure Material: CAM solid surfacing
Enclosure Size: H50 xW24.0 xD13.0 cm (H19.7¡± xW9.5¡± xD5.1¡±)
Weight (each): 10.5Kg (23lb)