Ultrumax-U1 Speakers
¡ï Ultrumax-U1a Speaker
The -U1a is the fundamental speaker for Ultrumax modular sound system; it has one Mark & Daniel¡¯s global leading, the 3rd-generation DM-8a AMT driver installed on the speaker panel to reproduce from 200Hz to 22KHz, the amazing over 6.5 octaves super-wideband in frequency spectrum! This outstanding DM-8a AMT driver has ensured all music essence can be reproduced from just one sound driver and yields the unparalleled true hi-fi reproduction due to the AMT operation mode for excellent transient response, high resolution, coherently resistive impedance without crossover distortions between different drivers.
* DM-8a AMT driver: http://www.mark-daniel.com/index.asp?Proid=31&table=sdr
There were only handful flagship-grade speakers may be able to equip AMT units before Mark & Daniel¡¯s Dreams drivers; after the realization of Ultrumax-U1a speaker with its reasonable price and the super-wideband performance, audiophiles shall have the privilege to enjoy the great sound reproduced by true AMT drivers ever since.
Also due to Ultrumax-U1a speaker¡¯s low-end frequency response has extended to the omni-directional 200Hz bass range, it takes the advantage be able to match with any brand of subwoofer from the market with the adjustable crossover covers to 200Hz range; the selection including M&D¡¯s dedicated Ultrumax-Sub-Ia and -Sub-IIa/-Sub-IIph super bass systems, and of course Ultrumax-U1a may also co-work with your existing subwoofer to save budget.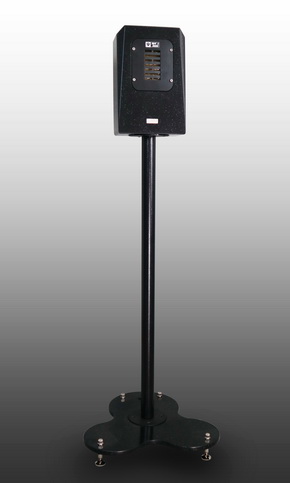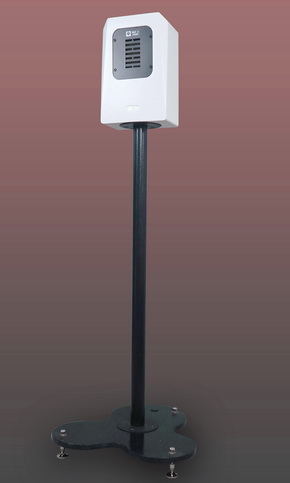 This tiny, handmade Ultrumax-U1a enclosure has the following dimensions: H: 25.0cm (9.8¡±) xW: 16.4cm (6.5¡±) x D: 11.0cm (4.3¡±); the re-inforced, low resonant CAM compound marble enclosure with the shaped panel is extremely solid and heavy. Each unit weighs 4.5Kg (10lb).
* CAM enclosure: http://www.mark-daniel.com/index.asp?ID=9&table=faq
The Ultrumax-U1a is designed applicable for mid/small audition rooms as the main speakers for the 2.1 stereo system, as the FL/FR channel speakers for AV playback, or as the satellite speakers for a hi-end multi-channel sound systems. There is a plug-in tray assembled on the bottom of -U1a enclosure, for easy yet solid installation on an elegant, cost-effective Ultrumax-Stand; this -U1a speaker is also able to install onto M&D¡¯s dedicated Ultrumax-Sub-IIa or Ultrumax-Sub-IIph floorstander for a high-demanded hi-fi system applications.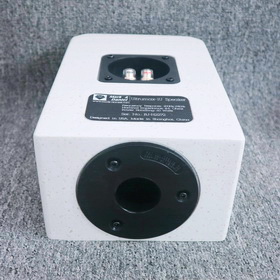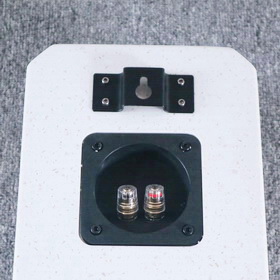 ¡ï Ultrumax-U1a-Inwall Speaker
Since the -U1a enclosure has a slim thickness only to 11cm (4.3¡±) so it is also good for the in-wall applications. Ultrumax-U1a-Inwall has the hanging hardware set assembled on the back side of -U1a enclosure so this speaker can be properly hung on the wall. Other specifications are identical to the standard Ulturmax-U1a speaker; while ordering, please specify for the -U1a-Inwall model then.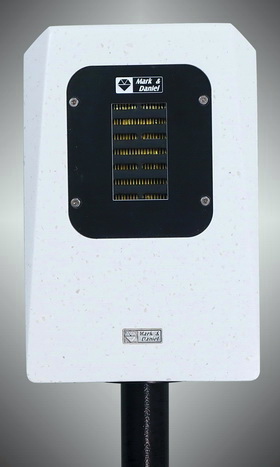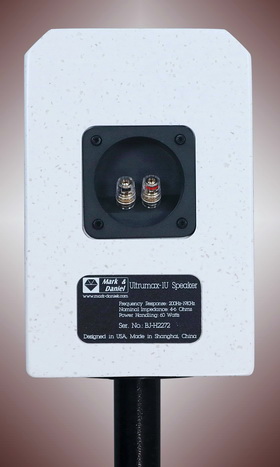 ¡ï Specifications£º
Product Description: Ultrumax-U1a Speaker, Ultrumax-U1a-Inwall Speaker
Reference Price: US$1,300/pair, for standard colors
Standard Colors: - Phantom White (Code: MD-1011)
- Starry Black (Code: MD-1423)
Freuency Response: 200Hz - 22KHz
Nominal Impedance: 3-8 Ohms
Average Efficiency: 83dB/2.83V/1m
Power Handling: 60 Watts
Enclosure Material: Handmade CAM solid surfacing
Enclosure Size: H25.0 xW16.4 xD11.0cm (H9.8¡° xW6.5¡± xD4.3¡±)
Weight (each): 4.5 Kg (10 lb)
Installation Height: 95cm (37.4") installed on Ultrumax-Stand
100cm (39.4") installed on Ultrumax-Sub-IIa or Ultrumax-Sub-IIph