Lady-Shanghai Sound System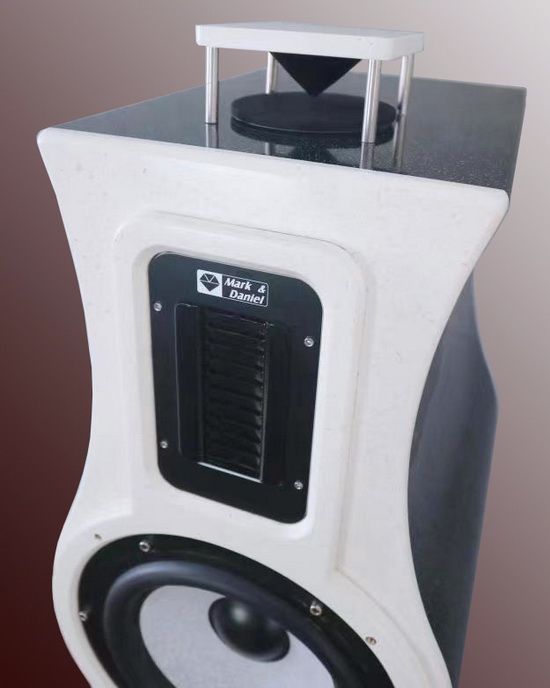 ¡ï General
The newly developed Lady-Shanghai large floor-standing loudspeaker fully embodies Mark & Daniel® 's pioneering sound regeneration philosophy and acoustic engineering capabilities in the top-notch Fantasia series! The extraordinary Lady-Shanghai sound system is not only ahead of hi-fi speaker trend in terms of structure and design shape, but also has an absolute sound reproduction and musical analysis capability, true presence sound-stage, and powerful dynamic output. She is a truly exceptional integrated speaker sound system optimizing musicality, high definition and effortless output capability. This total concept management has elevated the Lady-Shanghai to a new level of sonic opulence and cost/performance ratio far from the market flagship rivals comparable!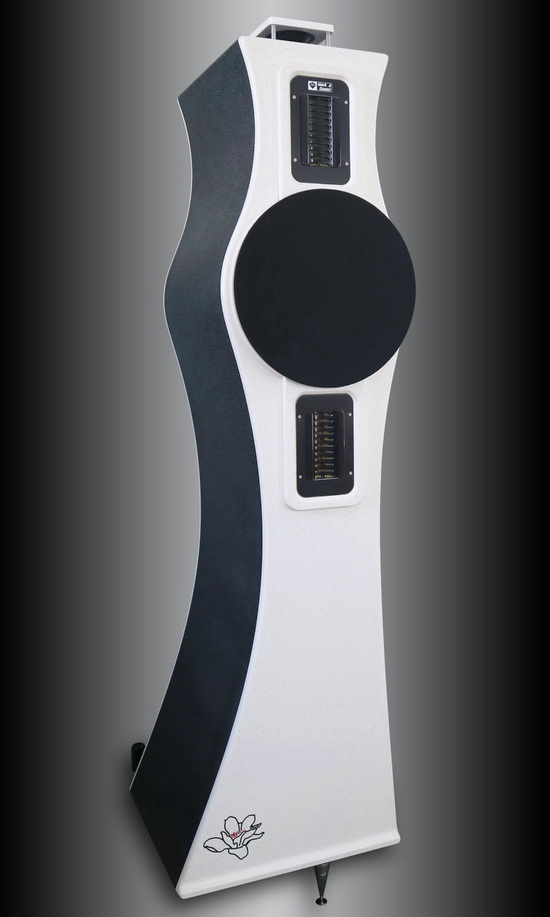 The large Lady-Shanghai floorstander has been structured based on an optimized two-way + omnidirectional super tweeter infrastructure in accordance with the best acoustic theory for speaker sound systems with the two-way crossover point down to 600Hz and be able to obtain an ultra-low FMD (frequency modulation distortion) index that may ensure pure, unadulterated hi-fidelity sound quality with a grand and precision music stage.
* FMD: http://www.mark-daniel.com/index.asp?ID=18&table=Phylosophy
As the new flagship speaker for Mark & Daniel's highly acclaimed hi-end Fantasia series, the full-sized Lady-Shanghai floor-standing speaker with 1.6 meters (5.2 ft.) height adopts an anthropomorphized shape creatively made by M&D, with years experiences on the CAM (compound artificial marble stone) techniques. To the Lady-Shanghai enclosure, two patented SX (super Xmax) woofers, one 10-inch on the front panel and one 8-inch on the back penal are assembled, and two large DM-9b Dreams AMT wideband drivers have been symmetrically arranged up and down to the front 10-inch woofer, and an AMT super tweeter is integrated on the top of the enclosure covered by a 360 degrees CAM diffuser.
The mirror-imaged Lady-Shanghai has adopted a D¡¯Appolito array but with a twist. Unlike typical midwoofer-tweeter-midwoofer (MTM) configuration, based on the intrinsic characteristics of their proprietary drivers, Mark & Daniel has boldly reformed the D¡¯Appolito array to an innovative widebander-superwoofer-widebander (WSW) configuration. To make this possible, M&D have yet again perfected their Super Xmax technology.
One of the many unique design genes the Lady-Shanghai has inherited from the family is the sturdy rock-solid enclosure made of costly compound artificial marble (CAM) for solid surface. The unique one-piece enclosure of the flagship speaker is completely hand-made, solid with 81kg (178 lb) very heavy weight, every detail painstakingly sculpted, polished and honed. Indeed, the Lady-Shanghai is an amazing work of Art!
* CAM: http://www.mark-daniel.com/index.asp?ID=9&table=faq
¡ïThe dedicated SX Super Woofers
Most of today's floor-standing speakers often use several woofers to jointly reproduce the enough sound pressure to cope with large listening rooms with the powerful dynamics; however, due to the limitation of the enclosure size and the constrain to driver¡¯s linear excursion capability, most of speakers are not enough to reach true deep bass extension (below 40Hz) resulted therefore, the necessity of sub-woofers to compensate which not only increases the cost but also causes many problems such as the low frequency crossover connection and slow response for deep bass.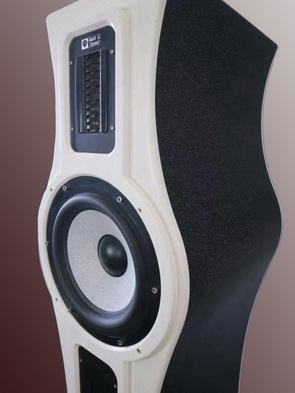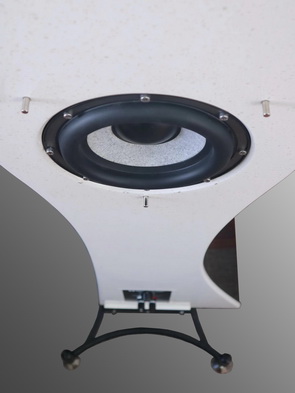 Mark & Daniel daringly push the envelope of their super woofers design and thereby persistently maintain minimal phase distortion through one single woofer. The new Lady-Shanghai flagship floorstander is designed with a special combination of dual-woofers driving system, a 10-inch SX woofer onto front panel and one 8-inch SX woofer on the back panel, this can not only regenerate together the amazing and authentic sound pressure for deep bass, but also use the advantage of two different size drivers with slightly different damping characteristics in the extended low-end frequencies, so be able to obtain a better comprehensive Q-value to whole deep bass response while covering its complete dynamic range.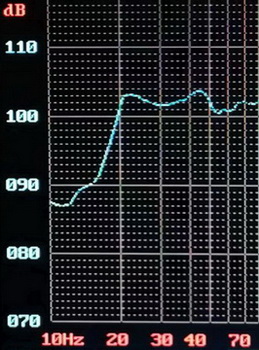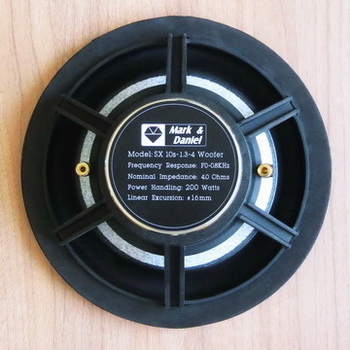 M&D patented SX technology coupled with Quantified Magnets Alignment (QMA), plus the huge amount of precious NdFeBd magnets, the top-notch SX10a-1.2 on the front panel is a 10¡± super woofer delivering unparalleled linear excursion at the spectacular ¡À15 mm (1.2¡±) mark, plus one SX8.0q-1.4 on the back panel is an 8¡± super woofer delivering even amazingly ¡À18 mm (1.4¡±) linear excursion that can cooperate to regenerate the enormous, undistorted sound pressure to low-end frequencies. The combination of the two SX drivers and the special enclosure design, the Lady-Shanghai exhibits dynamic bass reproduction with a natural roll-off down to 20Hz without the need of active amplification or electronic equalization to reach human hearing limit of ears, without the need for (unnatural) electronic compensation means such as additional built-in power amplifiers or equalizers. This achievement, for any purely passive speaker system, is an extremely demanding challenge!
* Super Xmax: http://www.mark-daniel.com/index.asp?BigID=9&table=dr
* QMA: http://www.mark-daniel.com/index.asp?ID=21&table=faq

¡ï Dreams AMT Widebanders & Immaculate Phase Alignment
In addition to the superior woofer design, two world leading DM-9b wideband Dreams AMT drivers have been configured to the D¡¯Appolito 3/2 geometry, vertically center-aligned with the 10¡± super woofer. A deadly weapon for Lady-Shanghai to achieve unprecedented purity of sound during music reproduction!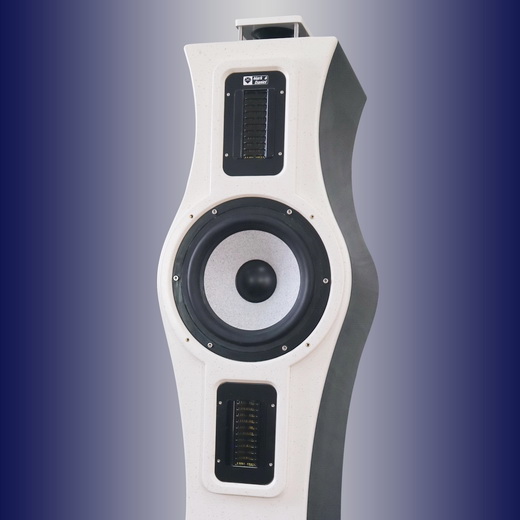 On an ultra-thin Kapton engineered substrate developed exclusively by Mark & Daniel, The DM-9b AMT (Air Motion Transformer) aerodynamic wideband driver is constructed by a plated ultra-large aluminum ribbon diaphragm, which is nearly 50 times higher than the conventional 1" dome tweeter. It can follow the instantaneous response of music at (5 times speed over conventional dome tweeter) high speed and is responsible for a wide frequency range of 600Hz to 20KHz, a 5-Octave bandwidth, where music reproduction matters most. These AMT drivers push air at lightning-fast transient speed in full-body volume that matches the real sonic scope and scale in live performances. They are meticulously pair-matched to guarantee perfectly lifelike sound imaging with absolute resolution down to every detail.
*Essence of true hi-fi: http://www.mark-daniel.com/index.asp?ID=16&table=Phylosophy
*Dreams AMT: http://www.mark-daniel.com/index.asp?BigID=8&table=dr

¡ï Unique Lady-Shanghai Sound Chamber
Based on the Post-Impressionism conception, came out with an Oriental ladies mimicry design, the Lady-Shanghai speaker adopts an enclosure made of precious CAM (compound artificial marble£©showing her unique artistic modeling. Different sound drivers are properly installed in the appropriate positions onto the enclosure to obtain the most desirable acoustic regeneration characteristics. This special enclosure based on S-curve shapes and asymmetric body can effectively improve the acoustic diffraction characteristics of the panel, reduce the chamber resonance to middle and low frequencies, and so on.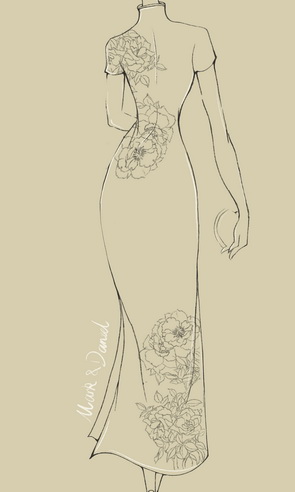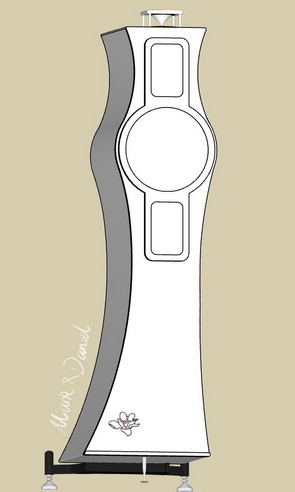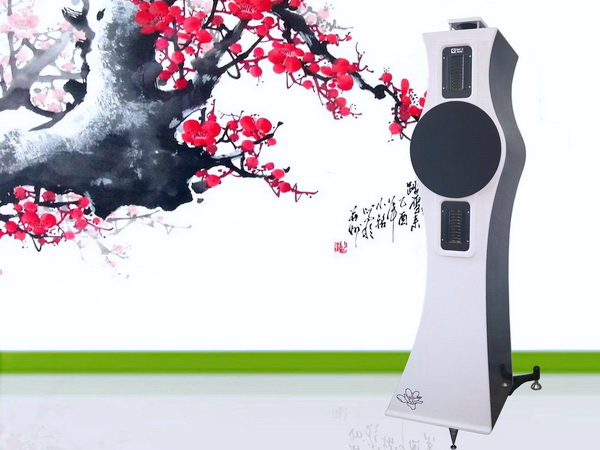 Two woofers of different sizes are installed in the front and rear panels of the Lady-Shanghai enclosure, the unique enclosure now enables this floor-standing speaker to deliver optimal bass reproduction in terms of amplitude (under very high SPL output), bass extension (smoothly roll-down to 20Hz) and complete Q-control (throughout the entire low frequency range). The bass is clean, taut and dynamic, perhaps more so than most multi-way/multi-woofer systems.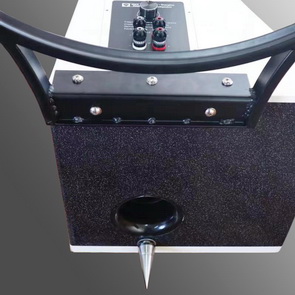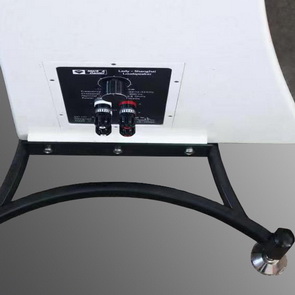 This enclosure is elevated from the floor by 10cm (4¡±) in height. This breathing space is necessary for the large vented port on the bottom of bass chamber. This design, subtle as it may seem, actually facilitates rich, clear ultra-low bass to radiate throughout the audition space with minimal standing wave interference.
¡ï The Omni-Harmonizer


An acoustics CAM diffusive-cone plus the DM-2 AMT super tweeter housed in its own dedicated sound chamber is installed on top of the Lady-Shanghai enclosure. Capable of ultra-high frequency harmonics from 7KHz up to 32KHz, radiating out in 360¡ã sound dispersion pattern, this is an indispensable enhancement to complete the vivid soundscape.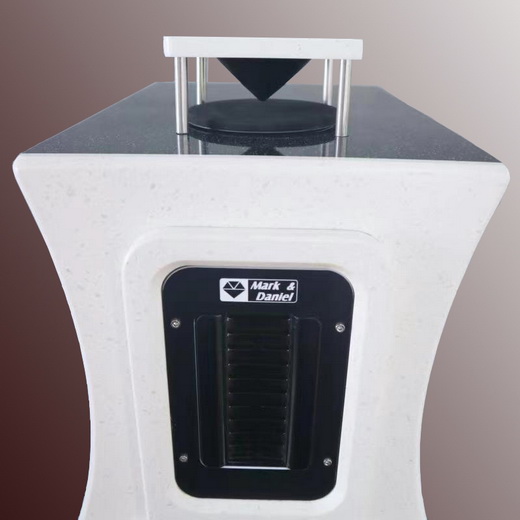 The super tweeter network is connected to the Dreams AMT high frequency network in parallel sharing same pair of (the HF terminals) binding posts. A -6dB to 0dB stepless attenuator allows listener to fine tune the super tweeter¡¯s output to best match the acoustic environment. The Omni-Harmonizer used in the Lady-Shanghai system is the same as the ones on Mark & Daniel hi-end models.
* Omni-Harmonizer: http://www.mark-daniel.com/index.asp?ProID=74&table=pr
* Note: Proper Installation for the Cone Diffusor: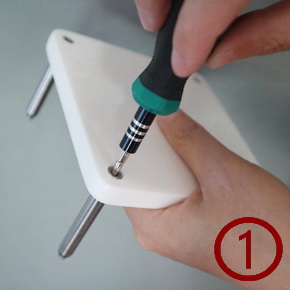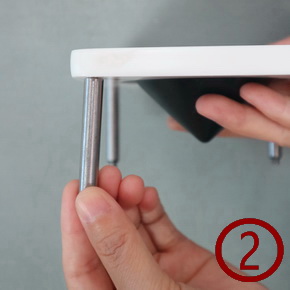 -Pick up the CAM diffusor then use a hexagonal wrench to slightly loosen the 4 screws on its top ¢Ù so the 4 stainless steel posts may be relax a bit ¢Ú

-Insert diffuser¡¯s 4 posts properly into the 4-hole position on the Harmonizer¡¯s top ¢Û
-Firmly press the diffusor with one hand, then properly lock the 4 screws on its top plate with the hexagon wrench ¢Ü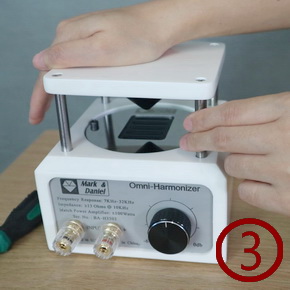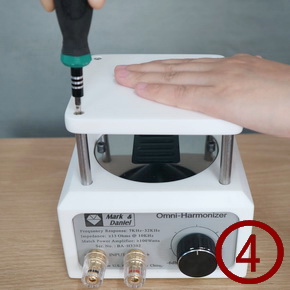 ¡ï Lady-Shanghai Crossover
A dedicated 6dB/octave + hybrid crossover network has been painstakingly aligned with many passive elements to ensure a perfect match between these exceptional high-performance drivers. Essential elements such as large gauge coreless inductors and authentic audio-grade FPP (with 0.06% super low dissipation factor) coupling capacitors have been incorporated into this crossover network to fulfill Mark & Daniel¡¯s very demanding total system approach.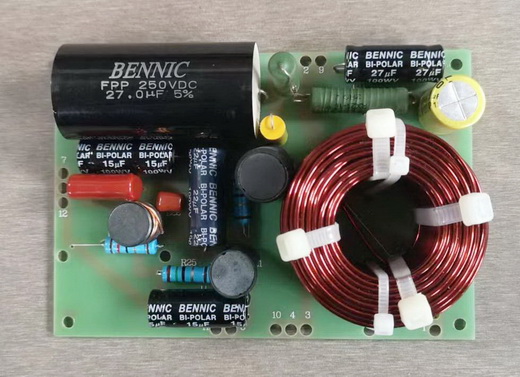 Lady-Shanghai¡¯s crossover PCB is isolated and sealed off from the pressurized environment in an independent chamber located on the lower rear side of the main enclosure; the sealed chamber can eliminate potential microphonics and EM interferences which are present in a speaker¡¯s interior.
¡ï Amplification Requirement
Two pairs of high-grade WBT® speaker binding posts are installed on the crossover panel for bi-wire or bi-amp configuration (The LF is for bass connection, HF is for over 600Hz mid-to-hi frequency connections). For optimal performance, bi-amplification with high current amplifiers each over 100Watts@8 Ohms per channel is recommended. Or, bi-wiring with single high-quality amplifier capable of delivering power output of 100 to 250 Watts@8 Ohms per channel is the minimum requirement for proper driving Lady-Shanghai.
* Bi-amp system: http://www.mark-daniel.com/index.asp?ID=18&table=faq
¡ï Amplification Requirement Ease of Setting up and Placement
To properly set up the Lady-Shanghai speaker system, the back-support rack and the temporary spike should first be assembled onto the speaker enclosure. This temporary spike is useful for moving the heavy system around to determine the best location for installation. After the best speaker placement has been decided upon, this temporary spike should then be replaced (with a wrench) by the large stainless-steel spike included with each shipping package.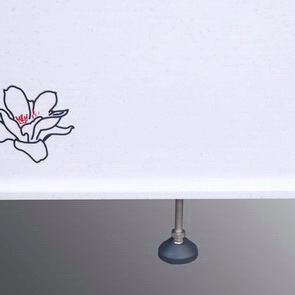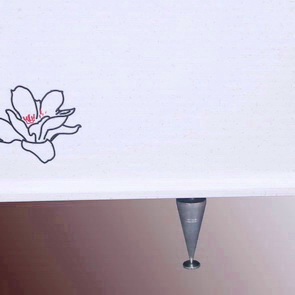 The heights for back-support rack (with two legs) and front spike are both adjustable to the user¡¯s preference. As a general guideline, first to fix the front spike to about 10cm (4¡±) height from floor then tilting the Lady-Shanghai slightly backward is recommended for better sonic effect and placement stability.
¡ï Made by Order
The Lady-Shanghai sound system is a limited version that only made by order; production lead time is 120 days from the day of order confirmation. Each pair of Lady-Shanghai is guaranteed to meet Mark & Daniel¡¯s stringent technological specifications, obsessive craftsmanship and uncompromising quality control.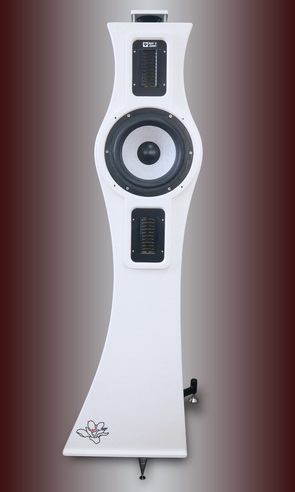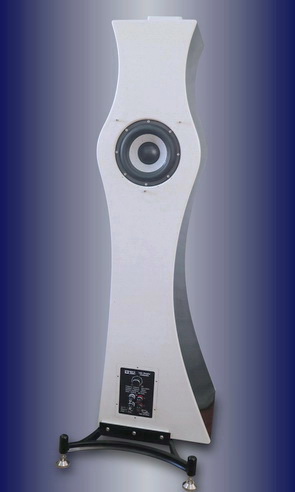 ¡ï Specifications:
Product Description: Lady-Shanghai floor-standing Speaker
Reference Price: US$25,500/pair
Standard Color: Phantom White (MD1011) + Starry Black (MD1423)
Frequency Response: 20Hz-32KHz
Two-way Crossover: 600Hz
Nominal Impedance: 6-8 Ohms
Average Efficiency: 86dB/2.83V/1m
Power Handling: 250 Watts
Enclosure Material: C.A. Marble Solid Surface
Cello Enclosure Size: W42.0 xD40.0 xH146.0 cm (W16.5¡± xD 15.8¡± x57.5¡±)
Overall Speaker Size: W50.5 xD57.5 xH156.0 cm (W20.0¡± xD22.6¡± xH61.4¡±)
Overall Weight (ea.): 81 Kg (178 lb)