Aragorn Sound System
"Not often, we come across a product that deserves to be fully examined, because of extraordinary quality. The Aragorn is such a product, and can reach a shocking level… Our main demo room is large (300 cubic-meters), but turned out to be perfect for this " standmount " speaker, which has actually been measured down to 28 hz at -3 db ( amazing ! ) in this room.
In fact, Aragorn turns out to be one of the 4 or 5 best speakers being used for the last ten years in this room - and the rest are much more expensive. Aragorn is the perfect tool to judge other equipment!"
- Arild Berget, Norway -
The Aragorn+ sound system is perhaps the most powerful and versatile bookshelf speaker system ever made, designed and engineered by Mark & Daniel®, a truly exceptional sound product whose unique system design contributes to its unparallel performance.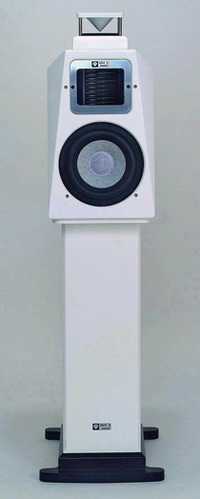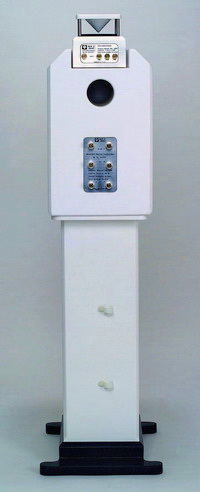 Three different audio devices may be combined to complete an Aragorn sound system, each device with their own unique function:
- Aragorn-Monitor+ bookshelf speaker
- Omni-Harmonizer super tweeter
- Bass Extender speaker stand
Both the Omni-Harmonizer and Bass-Extender are the optional items determined by customer's need.
The Aragorn-Monitor+ bookshelf speaker, with its un-compromised sound quality, outstanding reproduction characteristics such as high transit response, clear resolution, low coloration with spatial precision, and very large SPL dynamics, meets every critical requirement as a monitor speaker system.
When used as the high-end main speakers for music appreciation at home, audiophiles may prefer to add one or both of these options to achieve even better sound reproduction for their entire system, at both High Frequency and Low Frequency extremes.
The Aragorn+ sound system provides unparalleled application versatility, exceptional output, and truly superior sound performance over any bookshelf speaker available in the audio market today.
Aragorn-Monitor+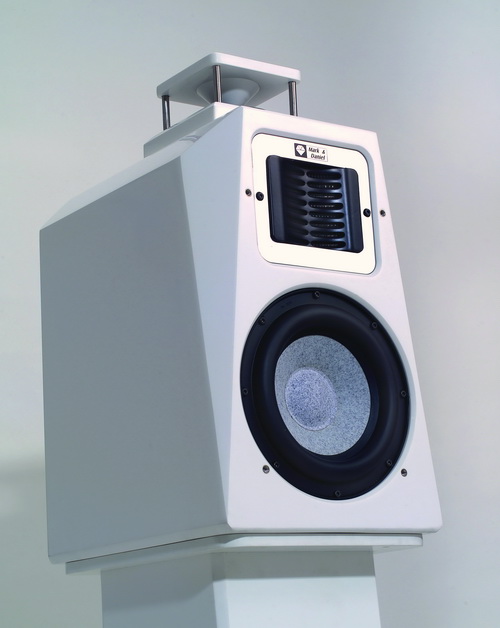 The Aragorn-Monitor+ is the premium Plus(+) series, two-way, 700Hz low-crossover, low FMD index, bookshelf sized monitor speaker; in addition, it has a special "build-in" designs to link with two optional devices: the Omni-Harmonizer and Bass-Extender unit. Together, they comprise the ultimate Aragorn sound system.
Each Aragorn-Monitor+ consists of one Dm-1a, the newly developed super-thin diaphragm Dreams AMT driver, carefully pair-matched for wideband reproduction, from 700Hz up to 25KHz, which virtually guarantees true fidelity reproduction, high dynamic output, and very low FMD pollution covering the most essential (800-4KHz) Mid Frequency band, and the complete High Frequency band with one single driver. This is accomplished without acoustics crossovers, without phase variation, without any LC compensation network in perfection.
One very powerful SX8a-1.4 woofer, using Mark & Daniel® patented SX (Super Xmax) technology and uniquely QMA (Quantified Magnets Alignment) design, have been employed to achieve an exceptional ± 18mm (1.4") linear excursion to this 8" woofer. A stunning deep bass reproduction on amplifude (under very high SPL output), frequency (for system F3 down to an amazing 36Hz), and full Q-control (along with the complete excursion range) have been optimized to the Aragorn-Monitor+ speaker.
Each speaker enclosure is hand-made and crafted from costly compound marble material (CAM), the cabinet is extremely rigid and heavy (each weighs up to 26 Kg, or 57 lb) to properly handle the enormous internal pressures developed by this exceptional 8" SX+QMA bass driver. The unique and sophisticated shape of the enclosure was designed to effectively eliminate undesired internal reflections and acoustic diffractions along the panel borders for both driving units.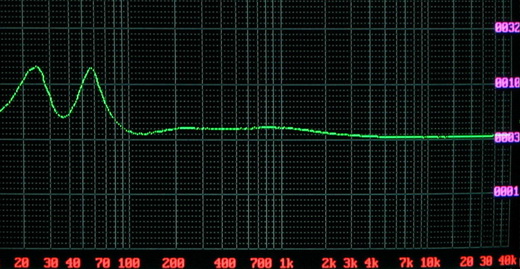 The Aragorn-Monitor+ unit dimensions are H42.0 xW26.6 xD35.0cm (H16.5"xW10.5"xD13.8"). Although the Aragorn is only a mid-sized bookshelf speaker in dimension, it compares favorably to most floor-standing systems in performance with true premium sound quality. The average sensitivity is 85dB/2.83V/1m, and the impedance curve shows nominal impedance to 3.2 Ohms with an outstanding flatness (from 100Hz to 40KHz) that provides a truly stable operation for the amplifier.
Bi-wire connections are required; a minimum of 100-Watt (rated at 8 Ohms) output, high current power amplifier with the low impedance driving capability is recommended for the Aragorn-Monitor+, or preferably, with two 45-60W amplifiers in bi-amp configuration is recommended in order to obtain the best results.
Three pairs of speaker terminals are easily accessed at the back panel of Aragorn-Monitor+; the lower terminal pair is for LF connection to the 8" woofer; the middle pair is for MF+HF connection to the Dreams wideband driver; and a spared upper pair is internally wired with the middle pair for the connection to the optional Omni-Harmonizer.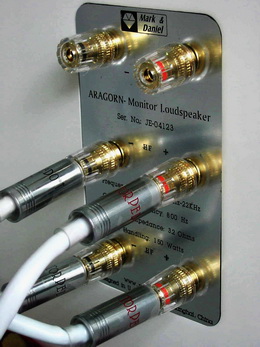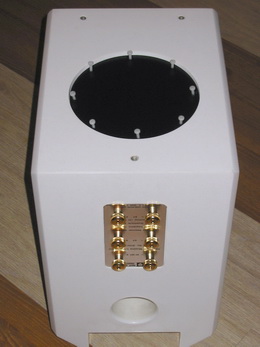 On the enclosure's top, an indentation is specially designed for proper placement of the optional Omni- Harmonizer device while equipped.
There is a heavy CAM cover at the bottom side of the Aragorn-Monitor+ speaker which is tightly secured during bookshelf operation. When the optional Bass-Extender is attached to the Aragorn-Monitor+ system, it will be necessary to remove this cover to form an airtight tunnel there by securing the Monitor and the Bass-Extender devices together. The original bookshelf speaker is now transformed into a floor-standing system, with deeper bass reproduction achieved by this combination!
Product Description: Aragorn-Monitor+ Speaker
Frequency Response: 36Hz-25KHz
Two-way Crossover: 700Hz
Nominal Impedance: 3-6 Ohms
Average Efficiency: 85.0dB/2.83V/1m
Power Handling: ≧ 150 Watts per channel
Bass-Extender
The Bass-Extender device, as an optional item, provides two primary functions for the Aragorn sound system: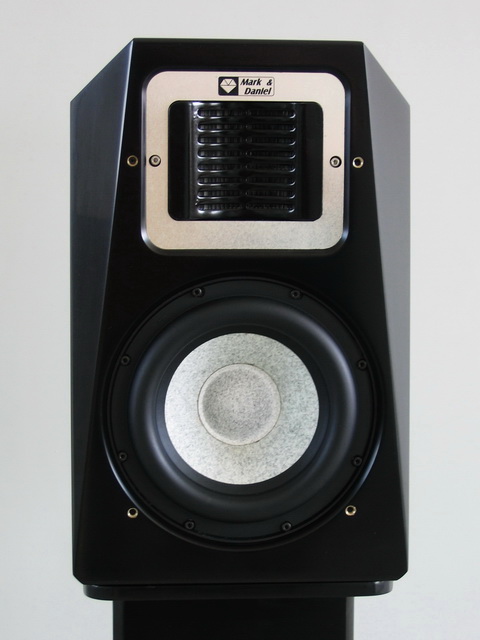 1) It functions as a solid foot-stand for stable placement of the Aragorn-Monitor+ bookshelf speaker.
2) It is also designed as a bass extender tightly matching the Aragorn-Monitor+ unit and thereby enabling a bookshelf speaker to be transformed into a floor- standing system.
This heavy, rein-forced Bass-Extender is also made of costly Compound Marble material, each weights up to 25 kg (55 lbs). When the Bass-Extender is employed, a cover that is fixed under the bottom of the Aragorn-Monitor+ speaker must be disassembled. Inserting a silicon-rubber ring in between, placing the Monitor+ unit right onto the Bass-Extender in position, and properly locking the two units together therefore creates an airtight tunnel. A bookshelf speaker has been transformed into a floor-standing system! (Refer to M&D® speaker systems instruction manual, Application Notes, Item 12, for installation details)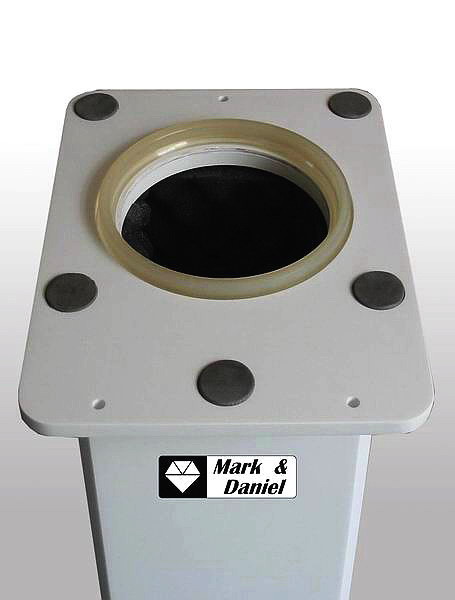 With full assembly, the low frequency has now been extended from a low 36Hz (as the bookshelf speaker) down to an amazing 28Hz (as a floor-standing system).
It should be noted that this method is not applicable to most bookshelf speakers due to the insufficient linear excursion of their bass drivers.
"Simplicity is the best", has always been the design philosophy that M&D has pursued. Utilizing a passive bass extender, such as the Bass-Extender unit, is the most effective solution to obtain deep bass improvement without the complexity of additional internal circuitry. There is no complicated sub-crossover network, no active power amplifier required, and no additional sub-bass alignment needed to balance all channels.
It should be noted that this method is not applicable to most bookshelf speakers due to the insufficient linear excursion of their bass drivers.
To drop a system's F3 from 36Hz down to 28Hz, such as in the Aragorn sound system, requires an additional 65% linear excursion capability at 28Hz compare to 36Hz, under the same SPL output. A conventional 8" woofer, considered to be good quality in today's market, has a typical Xmax within ±3.5mm to ±5.0mm only; a higher bass current can easily drive the woofer's piston into non-linearity, causes heavy distortion by trying to extend the system F3 to a lower limit. M&D's SX-8.0 super woofer, with its unparalleled ±15mm linear excursion using SX technology, yields 7dB to 10 dB (5 to 10 times stronger in acoustic power) higher output than the conventional woofers, to ensure extended deep bass reproduction while retaining excellent Q-control under very large dynamic outputs.
Product Description: Bass-Extender Foot-stand
Frequency Response: 28Hz-22KHz w/Aragorn-Monitor+
Enclosure Material: CAM solid surfacing
Size (H x W x D): 70.0 x32.0 x41.0 cm (w/spikes)
27.6"x12.6"x16.1" (w/spikes)
Weight (each): 25 Kg (55 lb)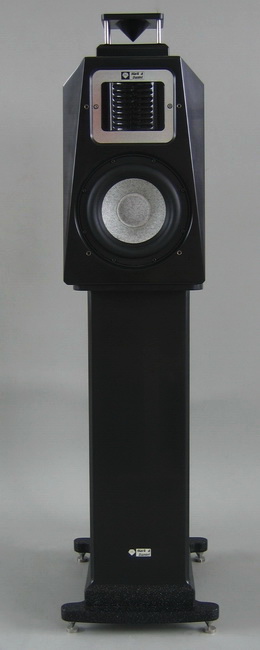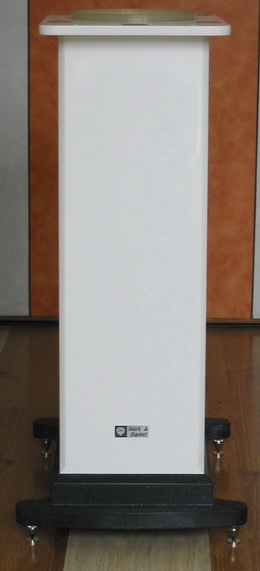 Enclosure Material: CAM solid surfacing
Enclosure Size: 42.0 xW26.6 xD34.8 cm (H16.5" xW10.5" xD13.7")
Weight (each): 26 Kg (57 lb)
Omni-Harmonizer
" Do not think of this as a $980.0 Tweak. Think of it as a one-time purchase of an expanded center-stage area in your system's reproduction."
The audiophile Voice, Vol.13, Issue 1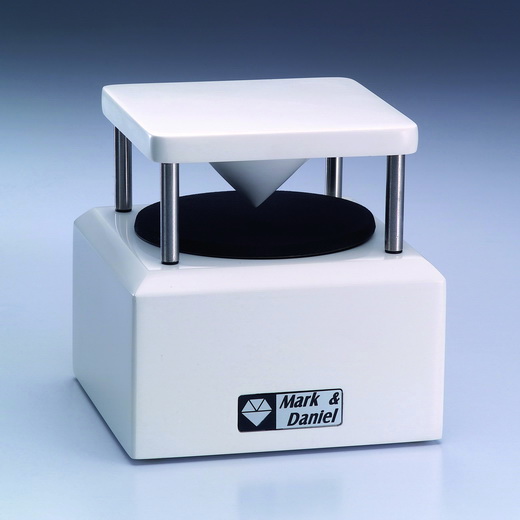 The Omni-Harmonizer was designed as an auxiliary device to work with Mark & Daniel speakers. It is purposely designed to respond to musical High Frequency harmonics, from 7KHz up to 35KHz, the very high frequency band.
The Omni-Harmonizer is not just a super HF tweeter, nor is it designed to produce a stronger High Frequency output with an existing speaker system. If were these modifications would only shape the system high frequency response into an abnormal output. The true significance of this unit is to obtain a more vivid spatiality with the High Frequency harmonics by producing a certain proportion of indirectly HF reflections to the listener. This is centrally derived from Omni-Harmonizer's 360˚ radiation into the listening room.
Noting that we can hardly find a musical instrument having fundamental tones over 4KHz; the M&D's super tweeter, with Dreams technology, is specially designed to only respond to music HF harmonics, from 7KHz up to 35KHz. This thereby achieves better acoustic spatiality in the very high frequency band.
A DM-2a Dreams AMT super tweeter, with high power handling and low FMD reproduction capability, is mounted face upwards on the Omni-Harmonizer's base unit. Made from compound marble, an acoustics diffusive-cone is placed on the unit's top facing downwards to provide a 4π (360 degree) audio radiation into the entire room space. Listeners will no longer hear HF harmonics from the speaker's tweeter only, but additionally they will now hear many indirect reflections from the listening room. This will create a more vivid and life-like music reproduction from the very high frequencies.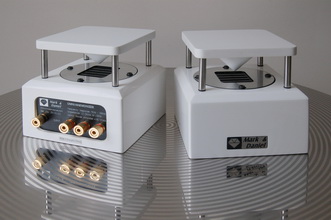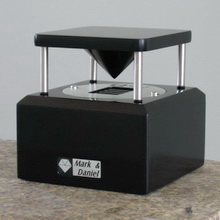 Since the Omni-Harmonizer is an auxiliary device attached to the existing speaker, depending on your room conditions and attached speaker's characteristics, the output of an Omni-Harmonizer must be properly controlled to a balanced, not over-driven level, with the very high frequency end providing listening satisfaction.
On backside of the unit, the original designed three-levels (0dB, -2.5dB, -5dB) selection has been replaced by a 25W high power (0dB to -6dB) attenuator to the new Omni-Harmonizer; a continuous fine tuning can be made for best matching with your system and room conditions.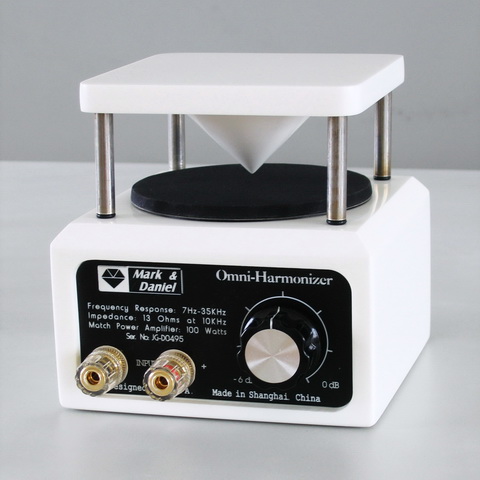 The DM-2 super tweeter has been internally connected to R-C networks with top grade capacitors (0.07% super-low dissipation factor). By selecting a lower sensitivity (higher attenuation), a lighter load is added in parallel to the attached speaker and amplifier.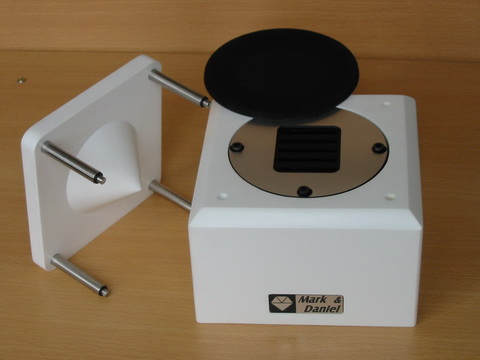 Although the Omni-Harmonizer was originally designed for the Aragorn sound system as an independent optional device; the Omni-Harmonizer however is also applicable to any M&D speaker and other speakers with the efficiency ranging from 82dB to 92dB for gaining spatial improvement at the very high frequency end.
Frequency Response: 7KHz-35KHz
Nominal Impedance: ≥ 13 Ohms @ 10KHz (set at 0dB)
Average Efficiency: 88dB/2.83V/1m (at 0dB setting)
Output Adjustment: 0dB to -6dB, continuous
Enclosure Material: CAM solid surfacing
Size (H x W x D): 13.8x14.0x14.0 cm (5.4"x 5.5"x5.5")
Weight (each): 2.5Kg (5.5 lb)